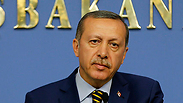 Photo: Reuters
Photo: Reuters
Relations between Turkey and Israel cannot go back to normal before Jerusalem lifts its Gaza blockade and a finalized protocol agreement is signed between the two countries, Turkish news agency Andadolu quoted Turkish Prime Minister Recep Tayyip Erdogan as saying on Tuesday.
An Israeli official, however, has clarified that Israel will not agree to ease the Gaza blockade as a part of the deal it is negotiating with Turkey, according to Channel 2.
Relations between Ankara and Jerusalem strained after an IDF raid of the Turkish-owned ship in May 2010 to enforce a naval blockade of the Palestinian-run Gaza Strip. Nine Turkish citizens were killed in the raid.
Prime Minister Benjamin Netanyahu called Erdogan in March 2013 to apologize for the incident, at the urging of US President Barack Obama, who was visiting Israel at the time.
Related stories:
Turkey and Israel then set out to negotiate compensation for the families of the nine Turks killed.
On Sunday, Turkish Foreign Minister Ahmet Davutoğlu said in a TV interview that significant progress has been made in the talks with Israel, saying the difference of opinions between the two countries has been reduced, according to Today Zaman.
Davutoğlu did not specify a date for a signing of the agreement between the two countries, nor did he discuss the amount of compensation that would be paid.
On Saturday, Erdogan met with Bülent Yıldırım, the chairman of the Humanitarian Aid Foundation that owns the Mavi Marmara vessel.
Turkey expelled Israel's ambassador and froze military cooperation after a 2011 UN report largely exonerated the Jewish state and concluded that while Israel had used unreasonable force, its blockade on Gaza was legal.