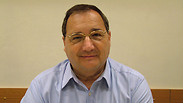 ADL national director Abraham H. Foxman.
Photo: Gabi Menashe
Retiring Anti-Defamation League (ADL) national director Abraham Foxman is "irreplaceable," US President Barack Obama said in a press statement released on Tuesday.

Foxman, who has been the public face of the ADL for decades, has announced earlier this week that he is to step down in July 2015.

"For decades, Abe Foxman has been a tireless voice against anti-Semitism and prejudice in all of its forms, always calling us to reject hatred and embrace our common humanity," President Obama said.

"Michelle and I wish him well as he prepares to leave the leadership of the Anti-Defamation League – an organization that he built, and led with such passion and persistence," the president continued.

Related stories:

"The causes that he has dedicated his life to will continue to inspire people in the United States, Israel, and around the world," he concluded.

In a letter published on the ADL website, Foxman wrote: "My years at ADL, particularly the 27 spent as National Director, could not have been more rewarding. ADL continued its growth as a highly respected and influential organization both here in the United States and across the globe. We have never lost sight of the fact that we are an organization whose first priority is to fight anti-Semitism and protect the Jewish people."

Foxman has been a vocal supporter of equal rights, with the ADL frequently issuing statements condemning any form of racism or discrimination.