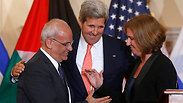 erekat with Livni and Kerry
Photo: AP
Prime Minister Benjamin Netanyahu must prepare the Israeli people for the terms of a peace deal with the Palestinians, which until now he has not done, chief Palestinian negotiator Saeb Erekat said Wednesday morning.
"I haven't heard any Israeli official from this government saying two states," Erekat told Army Radio. "I haven't heard any Israeli leader in this government saying East Jerusalem (as) the capital of Palestine. I haven't heard any Israeli saying we recognize the State of Palestine's right to exist in peace and security."
What is needed, Erekat said, is for Netanyahu to make a public address explaining what a peace deal would entail.
"I want... (for) Mr. Prime Minister of Israel to address his people, to tell his people, to prepare his people for what is needed, yes and to say 1967. That's what he needs to say," he said, referring to the basic understanding that the frontier between Israel and a Palestinian state would fall more or less along the 1967 borders, with some territorial exchange.
Erekat told host Razi Barkai that no one on the Palestinian side has seen a formula for a peace agreement from Secretary of State John Kerry, who is leading the negotiations.
"Up till this second, up till this moment, we have not seen any American official proposal," Erekat said. "I don't know whether (President Barack) Obama will allow Kerry to introduce something without him necessarily hearing both the consent of Abu Mazen (Palestinian President Mahmoud Abbas) and Netanyahu. So it's really premature to speak about these things at this stage."
He urged the secretary of state to take firm steps to bring about an agreement, despite any pressure from the Israeli side.
"I hope and pray that this time John Kerry will go the path of what's needed, and that's what's possible. So I am sure that Netanyahu's calling him, and telling him, 'I'm losing my coalition, I'm losing this, (hardline Economy Minister Naftali) Bennett, this that.' What Kerry needs to do is put on the table what's needed... You don't need to reinvent the wheel."
Netanyahu is due to meet Obama at the White House when he travels to the United States at the start of next month. Announcing the trip on Monday, the prime minsiter said that the peace process would be on the agenda, along with the Iranian nuclear negotiations.