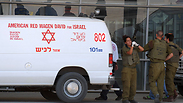 Ambulance evacuates injured at Erez crossing (Photo: Amir Cohen)
Photo: Amir Cohen
The IDF says it has turned away Gazan medical patients seeking treatment outside their territory because referral letters were marked "State of Palestine," a status Israel does not recognize.

The UN General Assembly recognized such a state in late 2012, an upgrade Israel rejected as an attempt to bypass peace talks. The Palestinian Authority, a self-rule government, uses "State of Palestine" on most stationary, but not in correspondence with Israeli authorities.

Maj. Guy Inbar, a military official, said Wednesday that about 70 patients from the Gaza Strip submitted requests this week to enter Israel for treatment and were turned down. He says Israel only handles paperwork marked "Palestinian Authority."

It was unclear if the standoff over the patients stemmed from a clerical error or a change in Palestinian policy.