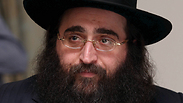 Rabbi Pinto
Photo: Gadi Kavalo
Attorney General Yehuda Weinstein decided to file an indictment against Rabbi Yoshiyahu Pinto. The indictment is expected to be filed within the next few days.

The rabbi will be indicted for offences of bribe to police officer Menasheh Arbiv in return for information on secret police investigation.

Related stories:
The indictment is based on an investigation run by the police for over a year on an alleged bribe of $200,000 of officer Ephraim Bracha, in return for information regarding an investigation into an association with which Pinto was involved.
In January, it was revealed that police were investigating senior officers on suspicion of accepting bribes from Pinto.
The allegations included claims that the wife of Rabbi Yoshiyahu Pinto handed a suitcase containing hundreds of thousands of shekels to Bracha's wife.
Pinto is one of Israel's most influential rabbis, acting as a spiritual adviser to numerous politicians and tycoons, and heading many education and welfare organizations.