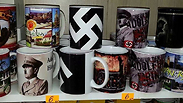 Mugs on sale in Bulgarian store
Photo: Janna Kushnir
An Israeli traveling in Bulgaria was shocked to find mugs carrying the picture of Adolf Hitler and decorated with swastikas in a souvenir shop in a ski resort. She later realized the shop was not only one carrying the Nazi paraphernalia, and found similar trinkets in other shops on the same street.

Janna Kushnir, 45, mother of four living in the Azor Regional Council, took her son Rafi, 13, to a Bar Mitzvah trip in Bansko, a tourist hub popular among Israeli tourists, located some 150 km from the capital Sofia.

On the final day of their five-day trip, the mother and son entered a gift shop in the town's main street and were surprised to find the mugs with swastikas and Hitler's picture offered for sale, stacked near cosmetic items and various trinkets.

Kushnir, the daughter of a Holocaust survivor, asked the cashier if selling such items was not forbidden, to which she said the clerk had replied: "What's wrong with that? Hitler is good.

"Of course we didn't purchase anything," she said. When I saw those mugs I pictured a Nazi standing in front of me." She added she was so shocked she left the store, but when walking into other shops down the street, similar souvenirs were on display on the shelves.