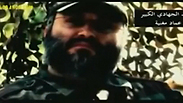 Marking six years since the assassination of senior Hezbollah operative Imad Mughniyah, Lebanese media outlets shed more light on Mughniyah's life, as they do every year. The Hezbollah affiliated Al-Manar network dedicated an item on Tuesday to the operative's artistic side.

The Al-Manar item, titled "The hajj Imad Mughniyah – the military commander who loved art," featured Mughniyah's friends reminiscing over the Hezbollah operative's love of theater and music, and even his contribution of his vocals to song recordings.

For example, his voice can be heard, Al-Manar noted, in a song commemorating the casualties of a 1993shooting, during protests against the Oslo Accords.

The operative had also reportedly followed comedians, and legend has it that he met with Syrian comedian Duraid Laham, who insisted that Mughniyah would one day conquer the south of Israel.