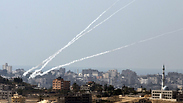 The ceasefire agreement between Israel and Hamas is eroding, UN Middle East Peace Coordinator Robert Serry said in a press statement on Wednesday.

"I am worried we are seeing more and more signs that the understanding on a ceasefire reached in November 2012 is eroding in both of its main requirements – the end of all hostilities and the opening of the crossings for people and goods," Serry said.

The Egyptian-mediated agreement came on the heels of the eight-day 2012 Operation Pillar of Defense in which more than a 100 Palestinians and six Israelis were killed.

"During the past two months, we have seen more rockets being fired at Israel, border incidents, and Israeli retaliatory operations causing death or injury to civilians. The United Nations condemns the rise in violence, and all parties must act in accordance with international law," Serry noted.

Serry asserted that "only the reunification of Gaza and the West Bank under the legitimate Palestinian Authority, based on the PLO commitments, can pave the way to a durable solution for Gaza, as part of political progress towards peace."

Related stories:

At the same time, Serry decried the deteriorating social and economic conditions in the Gaza Strip as a result of continued closures of border crossings.

UN construction work in the Strip has suffered delays as a result of the closures, and over 20 projects remain stalled since November 2013.

"The closure of illegal tunnels has not been turned into an opportunity to increase the entry of construction material through legal crossings," Serry said.

"I sincerely hope that the Israeli authorities will fully adhere to their commitment to reopen Gaza for construction materials for UN projects," he added.

The Special UN coordinator did note the recent decision to allow 1,000 tons of cement and other construction materials for flood relief into Gaza as a positive step.

In 2010, Israel eased the restrictions to allow imports for internationally supervised projects. But in October of last year, it halted the entry of all construction materials after discovering a concrete-lined tunnel along the border.

Israel said the tunnel was to be used by militants for attacks and abductions of Israelis – a claim that Palestinian armed groups later confirmed.

Alternative Press contributed to this report.