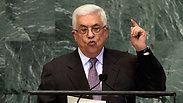 Palestinian President Mahmoud Abbas' red lines in any framework peace agreement with Israel include East Jerusalem as the Palestinian capital and an Israeli withdrawal from all Palestinian territories within four years, Ramallah-based newspaper Al-Ayyam reported Wednesday.

Quoting senior Abbas aide Nabil Abu Rudeineh, who also worked for Yasser Arafat, the paper said that the Palestinians would categorically not recognize Israel as the Jewish state, on the grounds that the PLO had recognized Israel in a 1993 mutual step.

Related stories:

Abu Rudeineh told the paper that the red lines had been sent to US President Barack Obama, Secretary of State John Kerry, who is leading the current negotiations, and the Quartet on the Middle East, a group comprising the United Nations, Russia, the European Union and United States.

The senior aide told Al-Ayyam that the principles for a framework agreement are:
An end to the conflict be based on the Arab peace initiative and relevant UN resolutions
The borders of a Palestinian state based on the 1967 lines
Israel must gradually withdraw from all Palestinian territories within three or four years
East Jerusalem as the Palestinian capital
Resolution to the refugee issue based on "international legitimacy", the Arab peace plan and UN resolution 194
All Palestinian prisoners must be freed by Israel with its final withdrawal from Palestinian territory

The issue of Palestinian recognition of Israel as a Jewish state, insisted upon by Prime Minister Benjamin Netanyahu, has been systemically rejected by the Palestinians. But chief Israeli negotiator Tzipi Livni reportedly alluded to a possible solution to this sticking point, when she was quoted as saying by a fellow lawmaker that Israel could be "in for a surprise" on the issue.