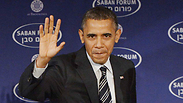 Barack Obama
Photo: Shahar Azran
WASHINGTON —US President Barack Obama will launch a new round of Middle East diplomacy Friday in a plush oasis in the arid California desert, hosting a Valentine's Day summit with Jordan's King Abdullah II.

Obama and the king will swap the piles of snow in Washington for the Sunnylands retreat at the Annenberg estate in Palm Springs, to discuss issues including the pitiful torrent of refugees pouring into Jordan from Syria.

The meeting will be the first of a trio of meetings between Obama and key Middle East leaders in the coming weeks.

On March 3, the US president will sit down at the White House for his latest encounter with Prime Minister Benjamin Netanyahu, who has

made no secret of his skepticism over an interim deal that Washington and other world powers reached with Iran on its nuclear program.

Then at the end of March, he will travel to Saudi Arabia, for what is likely to be a sharp personal reminder that Saudi King Abdullah shares Netanyahu's doubts about Obama's strategy of testing the sincerity of an Iranian diplomatic opening.

Obama and his royal guest will sit down in California just two days after the US president said that Syria was "crumbling," while his Director of National Intelligence James Clapper described the civil war-splintered country as an "apocalyptic disaster."

Jordan has borne the brunt of much of the humanitarian overflow -- nearly 600,000 Syrian refugees have now crossed its borders, straining its infrastructure and finances.

Obama frequently notes that the United States is the largest aid donor to Syrian refugees. Washington has so far donated $1.7 billion to the cause, according to the US Agency for International Development.

But there are no signs that the Obama administration believes that a new US policy - or a change in its reluctance to either to do more to arm opposition rebels or to commit direct US military resources - would bring an end to the crisis any closer.

Obama will also discuss American-led efforts to broker a settlement between Israelis and Palestinians with the Jordanian monarch, who strongly backs the US peace drive.

Abdullah has been in Washington for several days and had talks with Vice President Joe Biden, Defense Secretary Chuck Hagel and other officials.

The king met with Biden on Wednesday for breakfast at the Naval Observatory, the White House said. The two reportedly discussed the conflict in Syria, touching on efforts to achieve political transition, growing extremism and the humanitarian crisis fueled by the civil war.