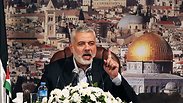 Gaza leader Ismail Haniyeh
Photo: Reuters
The long-running dispute between Fatah and Hamas looks unlikely to be resolved soon, with the two sides unable to even agree on whether talks about reconciliation were actually taking place.
Fatah says its delegation that went to the Gaza Strip recently did not travel there to move the reconciliation process ahead. Rather, it said, talks with Hamas officials were limited to issues regarding the Fatah presence in Gaza and never touched on the all-important matter of ending the bifurcation between the two rival factions that is impeding the drive toward statehood according to a senior Fatah official.
Hamas disagrees, saying the two sides had "positive" discussions on a number of issues, including reconciliation.
The delegation "went for issues regarding Fatah," Azzam Al-Ahmad, Fatah's chief negotiator with Hamas said. "It was a very general discussion. But the agenda of the Fatah delegation did not contain the reconciliation process," Al-Ahmad said.
Related stories:
In 2006, in an election victory that surprised many, Hamas won the majority of seats in the Palestinian parliament. Within a year, Hamas had ousted Fatah-linked Palestinian Authority security forces from the Gaza Strip, forcibly taking control of the coastal enclave and its population of 1.8 million while Fatah remained in control of the West Bank. The division in leadership has prevented the Palestinian people from presenting a unified front ever since.
A number of attempts to re-unify the two factions have been made, and two reconciliation agreements were signed: one in Cairo and one in Doha, both in 2012. Neither agreement has been implemented.
The Hamas government's first female spokesperson Isra al-Modallal insisted that the visitors from Fatah "had a meeting with (Hamas' Gaza Prime Minister Ismail) Haniyeh, in which they talked about lots of issues related to the situation and they were talking about it in a positive way." Reconciliation, she says, was on the agenda.
Al-Modallal described the meetings as "good, positive and welcoming." She said that because the Fatah members focused on elections, the primary issue related to reconciliation, "Hamas was unable to discuss the 'serious' issues it wanted to." She defined "serious' as meaning "to prepare a proper regime, to have systematic operations, release political detainees," she said.
Upon learning of the Hamas response, al-Ahmad dismissed the issues discussed as "internal and nothing more." "Haniyyeh received and dined with the visiting Fatah delegation in his role as vice president of the movement (Hamas)," al-Ahmad said.
The "internal" issues dealt with included the failure of Gaza-based Fatah officials to receive regular salaries and the families of Palestinians killed by Israeli forces to receive allowances since the split between Gaza and the West Bank.
Al-Ahmad said that Fatah was waiting to hear from Haniyeh whether or not Hamas is ready to announce implementation of the Doha agreement.
Intended to end the Hamas-Fatah conflict once and for all, the Doha agreement was signed two years ago February by Palestinian President Mahmoud Abbas and Hamas political leader Khaled Meshal, in the presence of Qatar's Emir Sheikh Hamad bin Khalifa Al Thani.
It speaks of a new government led by the Palestinian president for a period of 3 to 6 months before new presidential and parliamentary elections are held. A second agreement echoing the Doha pact, was later signed in Cairo.
"In my call last week to Doha, they said they were also waiting for Haniyeh's decision, and that this was his last chance," said al-Ahmad.
Nimmer Hammad, Abbas's political adviser, disagreed in part with his Fatah colleague. While he agrees with al-Ahmad that internal matters were discussed in Gaza, he also said, "There were meetings, important meetings, with leaders of Hamas; not only with Haniyyeh, but with others," Hammad said, leaving the door open for progress. He said he had been in touch with members of the delegation and would describe the meetings as "constructive," but opined that it is too early to judge what came of them.
He also explained that there were reasons to hope the Doha agreement would be implemented.
"There are certain changes that happened which put a certain pressure on the leadership of Hamas to accept what they used to refuse before," said Hammad. He also says the current events in the Middle East had changed Hamas' mind, namely the removal of the Muslim Brotherhood in Egypt – a presence which Hamas had depended on.
"Hamas, today, they feel that, in Egypt there is no more Muslim Brotherhood, there is a different situation and also with what happened with Hamas in Syria," Hammad said.
In December of 2013, senior Hamas official Mahmoud Zahar told reporters at a news conference that Hamas had withdrawn from Syria so that it would not "be identified with this or that side."
"What we need is to pick the date of the election and decide the date of forming a national unity government," said Palestinian lawmaker Bassam al-Salhi.
According to the Palestinian Basic Law, parliamentary and presidential elections are to be held every four years. In 2005, presidential elections were held in the West Bank and Gaza Strip, with Palestinian voters electing Palestine Liberation Organization Chairman Abbas president of the Palestinian Authority after Yasser Arafat died in 2004.
Al-Salhi reportedly said that Fatah was more willing than Hamas to move forward.
Moving forward means holding unity elections, something Hamas still does not appear ready to do.
Al-Salhi says a national unity government is needed and a breakthrough is needed to amend the Hamas-Fatah rift is a necessary. "We have to make this relationship work," he said. The Palestinian Legislative Council member says Hamas will not give up the Gaza Strip, but is almost ready to share it. He seemed to hint that not all of Hamas was in agreement over the latest reconciliation efforts.
"I think Hamas until now did not decide in its bureau. They need a meeting," said al-Salhi.
While Hamas' West Bank leader Sheikh Hasan Yousef says the visit of the Fatah delegation is a good gesture, he adds that one has to be "practical."
"On the ground, there is no initiative from Fatah to reconcile with Hamas. Just look at what is happening on the Palestinian ground – more and more arrests of Hamas by Fatah," calling for Fatah and the PA to allow free West Bank access to Hamas loyalists.
"We don't want lip service or statements. We want solid steps on the ground. We want freedom in the West Bank. Abbas' security forces are giving us the opposite," Yousef said.
"How can you do this (reconcile) when you are arresting? How can you face Israelis when you are mistreating your own people in Gaza? How do you give Gazans a sense of security? How can you narrow the gap of differences when because of all of Abbas' forces you can't move around in the West Bank?"
Yousef said it's premature to talk about a date for elections because the Palestinian Authority has not created an atmosphere for it.
"How can we have elections? Elections should have democracy and freedom, movement – there can be no reconciliation or even elections unless they force one and rig the results," he said. "Make up with Hamas? How? From what we see, that's not what they want."
And while al-Modallal agrees that Fatah's arrests of Hamas activists harm reconciliation efforts, she hopes the faction will recognize that change is among them. By way of example she explains that in the past, Hamas has cancelled Fatah-related activities in the Gaza Strip and detained its members.
Recently, though, Hamas allowed a Fatah wedding to take place in Gaza.
"We believe there are mistakes but we cannot stop dealing with the PA. We opened our doors for the PA to come. They came and we talked," she said.
Al-Modallal says it's important for Abbas to recognize that Gazans are part of the Palestinian community and write a new chapter on reconciliation.
She also mentioned the humanitarian crisis Gaza was experiencing, naming a number of issues such as health care, unemployment, economy, education and Egypt's closing of the smuggling tunnels.
"More than 85% of the necessary goods are not available," said Al-Modallal.
Other media reports suggested that the Fatah delegation had travelled to Gaza to warn Fatah to stay away from former Fatah strongman Mohammad Dahlan, once the head of Gaza's security forces prior to the Gaza-West Bank split and kicked out of Fatah in 2011.
Al Ahmad refused to answer any questions about Dahlan, dismissing it as "not important."
Article written by Abdullah H. Erakat. Reprinted with permission from The Media Line .