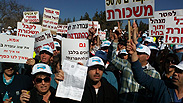 Striking Hadassah staff
Photo: Eli Mandelbaum
The strike at the two Hadassah hospitals in Jerusalem officially ran over into the weekend on Friday. Staff and management failed to reach an agreement Thursday night that would see the doctors, nurses and other personnel at the Mount Scopus and Ein Karem medical centers return to a full work schedule.

Chances for an agreement died after the staff's representatives rejected a management offer to pay an average of 90 percent of workers' salaries during the three-month stay of execution from creditors granted to the cash-strapped hospital.

Related stories:

The hospital's 850 doctors began their strike more than a week ago, after only receiving half of their January salary. Days later, they were joined by all of the staff at Hadassah Ein Kerem and Hadassah Mount Scopus, a labor union spokesman said.

On Monday, Jerusalem District Court approved the Hadassah management's petition for a stay of legal proceedings against the hospital, protecting it from creditors for three months.

Those earning what was deemed to be a high salary would receive 85 percent of their wage, while those on a lesser income would get 90 percent. Only those earning less than 10,000 shekels per month would receive full pay under the deal offered.

Staff representatives turned down the offer, demanding that the hospital commit to confidence-building steps before the strike is ended, including a pledge to pay doctors' malpractice insurance and pension contributions. The staff representatives said that they would consider their position once they had received a response to these demands.