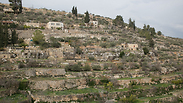 Village of Batir
Photo: Ohad Zwigenberg
Palestinians motion UNESCO to grant World Heritage status for West Bank village
Sources say if plans to build security fence across village of Batir are carried out, it may cause irreparable damage to local ancient terraces. Palestinians' petition to UN hopes to preserve site, but also violates peace talks' preconditions, suggesting negotiations may fail.
The time frame allotted for negotiations between Israel and the Palestinian Authority is coming to an end, and it appears that the Palestinian side is preparing the groundwork for the possibility that the negotiations will end in stalemate.

The Palestinian Authority asked UNESCO (United Nations Educational, Scientific and Cultural Organization) in late January to include the ancient terraces of the West Bank village of Batir in the list of World Heritage Sites in Danger.

The issue of Batir's ancient terraces is in the subject of a High Court legal battle against the route of the border fence that is supposed to pass through the area. A petition was filed by Friends of the Earth Middle East, out of environmental considerations. The organization, in collaboration with Batir residents, argues that the route of the fence that the State plans will destroy part of the ancient terraces in a manner that will cause irreversible damage.

A Palestinian bid to an international institution while peace talks are underway is considered a violation of Kerry-brokered agreements between Israel and the PA, as a precondition to entering talks. According to the agreements, Israel has agreed to release 104 Palestinian prisoners, who were jailed before the Oslo Accords , and in return Palestinians have agreed to refrain from launching unilateral moves against Israel while negotiations are ongoing.

Palestinian sources told Ynet that the petition was filed with UNESCO in January, seeing as that was the final opportunity to ensure a deliberation of the issue of the terraces in 2014. A hearing is expected to take place in June 15 in Qatar, where the annual UNESCO committee is scheduled to convene.

Before the committee is to convene, UNESCO representatives are expected to arrive at Batir to inspect the site. Sources noted that since peace talks are expected to end in April, the petition had to be filed. However, they implied that if it was decided to extend the talks, the Palestinian Authority will withdraw the motion.

The Palestinian Authority has been a member of UNESCO since October 2011, following a vote, in which 107 states were in favor and 14 opposed.