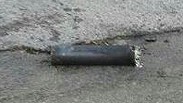 Archive
Photo: Lachish Police Department
Two rockets hit Israel on Friday, one near a greenhouse in the Hof Ashkelon Regional Council and the other in the Eshkol Regional Council. No injuries were reported.
On Tuesday, the Israel Air Force struck the Gaza Strip in response to Monday rocket fire towards the Hof Ashkelon Regional Council.
On Saturday, a rocket landed in Sha'ar HaNegev Regional Council, but no injuries or damage were reported. Another rocket was launched Thursday evening, and landed in an open field south of Ashkelon.