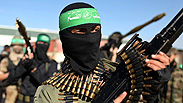 Hamas forces in Gaza Strip
Photo: Reuters
Hamas has vowed to treat the deployment of any international force in Palestinian territory under the auspices of a peace accord with Israel as an occupying force, the organization's spokesman said on Friday, Palestinian news agency Ma'an reported.

Speaking at a rally in the Gaza Strip organized by Palestinian factions opposed to the talks with Israel, Sami Abu Zuhri said Hamas would work to "defeat this initiative."

"No Arab country will agree to the desecration of one centimeter of its lands," he said.

The plan proposed by US Secretary of State John Kerry only serves to "terminate the question of Palestine and what is left of Palestinian rights and principles," Abu Zuhri said.

Related stories:

Abu Zuhri also called on Palestinian Authority President Mahmoud Abbas to withdraw the negotiations.

"Nobody has authorized you (Abbas) to speak on behalf of the Palestinian people, or on behalf of Hamas or any other faction," he said.

Fatah issued a response to Hamas' accusations, saying no third party stationed at a future Palestinian state would threaten its sovereignty.

The Fatah leadership called on Hamas to stop sending unreliable messages to Israel, and accused the Gaza rulers of playing into Prime Minister Benjamin Netanyahu's position that objects to Israeli withdrawal from the West Bank.

Two weeks ago, in an explosive New York Times interview, Abbas presented his core principles for the negotiations. The Palestinian leader said he would accept a NATO presence responsible for securing the borders of a Palestinian nation.

The Hamas spokesperson criticized the conduct of the delegations in the talks: "Why don't you tell the truth about what is going on in the secret negotiations? If you are honest, go out to your people and tell the truth and give them details."

Abu Zuhri expressed his pessimism regarding any reconciliation between Fatah and Hamas, despite the recent visit by a senior Fatah delegation to the Gaza Strip which was intended to promote the long-discussed resolution.

According to Abu Zuhri, Fatah has not taken any positive steps towards reconciliation, instead continuing to arrest Hamas members in the West Bank.

"The reconciliation is a slogan without implementation," said the Hamas spokesperson, "If you want a resolution you must stop the arrests and torture (of Hamas members) and stop the security cooperation with Israel. The ball is in Fatah's court. Hamas is prepared to reach a resolution."

Ynetnews contributed to this report.