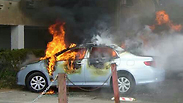 A car set ablaze near shooting scene.
A Jaffa man was killed in a drive-by shooting in broad daylight on Saturday by two masked assailants near Hatachana shopping complex on the Tel Aviv boardwalk.

The deceased, Taar Lala, 27, is known to the police and has a criminal record.

The shooting occurred while thousands of visitors were in the complex to attend Israel's Chocolate Festival.

"We were at Hatachana shopping complex when we heard gunshots," said a mother of two that was at the scene. "We thought it was a terror attack, there was mass hysteria."

Police were at the scene investigating the shooting and a police helicopter flew overhead trying to track down the suspects' getaway car.

A car was set on fire near the scene of the shooting, and police is currently investigating whether this is the assailants' getaway vehicle.


There were reports that there were other passengers in the deceased's car who were not hurt in the shooting.

The assailants opened fire at the deceased's vehicle from a short range and hit him in his upper body. He was critically injured and pronounced dead at the scene.

Israel Police remains helpless after a series of recent hits across the country. Last Saturday, a man was killed from a car bomb in the Kfar Shalem neighborhood in Tel Aviv.

The week before that, two people were killed in a car bomb in Petah Tikva, not far from a kindergarten and a school. Police has said this was likely a "work accident" and that the two dead were not the targets of the bombing. Three adults and a baby were also lightly injured from shrapnel.

Two days after the Petah Tikva bombing, unknown assailants tried to kill a criminal known to the police by detonating an explosive near his vehicle near moshav Heletz in the South. Both the target and another person who was in the car with him were unharmed.

A day later, two additional explosions occurred in broad daylight in Kiryat Yam and in Nahariya. No one was hurt in either incident.