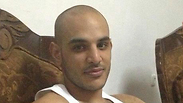 Taar Lala (Photo: Courtesy of Jaffa News)
Photo: Courtesy of Jaffa News
Two unknown assailants shot Taar Lala, 27, on Saturday at the Tel Aviv beachfront in an apparent mob hit. A photo sent to Ynet shows two people fleeing the scene.

The two are seen running towards a getaway car that was waiting for them nearby. Police suspect the two are the assassins that shot Lala while he was driving his BMW.

The getaway car, police say, was later found ablaze on Gaza street in Jaffa.

Security footage gathered by the police show the shooters arriving by foot to Lala's car. They shoot ten bullets at him from close range and escape the scene to a getaway car that was waiting for them.

Police held four suspects for questioning on Saturday night, one of them is a known criminal in his thirties from Jaffa.

"My client denies any connection to the incident. This arrest indicates on the panic police is in, and nothing else," the suspect's attorney, Eitan Onn, said.

Hassan Shaalan contributed to this story.