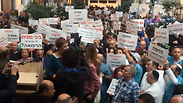 Striking Hadassah employees
Nursing, janitorial and administration staff deserted their departments at the cash-strapped Hadassah hospitals in Jerusalem for three hours on Sunday, stepping up industrial action over unpaid salaries.

At 11 am, the staff at Hadassah Ein Karem and Mount Scopus walked out of departments already operating in a limited capacity for almost two weeks. For those three hours, only life-saving procedures were to be performed.

Related stories:

"We had no choice. The Hadassah management and Finance Ministry have turned dedicated employees into hostages," said a statement by the staff released Sunday.

The strikes began when hospital staff were not paid in full for January, payments which are still outstanding. The hospital's 850 doctors began their strike almost two weeks ago. Days later, they were joined by all of the staff at both hospitals.

The Hadassah management is weighing an appeal to the National Labor Court to demand an end to the strike. On Thursday night, talks between the two sides broke down when staff rejected an offer for partial payment of outstanding salaries.

Meanwhile, patients continue to suffer from the halt to services at Hadassah. Many have decided to bypass the hospital's two sites altogether, and have instead gone to Jerusalem's Sha'arei Tzedek Hospital.