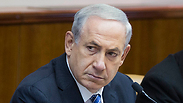 Prime Minister Benjamin Netanyah at the weekly cabinet meeting (Photo: Yonatan Sindel/Flash90)
Photo: Yonatan Sindel/Flash90
It's not the citizens of Israel that should fear for their safety, but the soldiers of crime families who will end up in jail, Prime Minister Benjamin Netanyahu said Sunday, a day after the country was shaken by a brazen suspected mob hit in broad daylight in Tel Aviv.

A series of recent mob hits across the country has raised concerns that more innocent people would get hurt in future attacks.

"We've recently witnessed (a number of) serious attacks by organized crime families and we are determined to eradicate this phenomenon," Netanyahu said at the start of the weekly cabinet meeting.

Related stories:

The State of Israel is giving its full support and resources to the Israel Police so it could effectively fight the crime organizations, he said.

Taar Lala, 27, was shot to death in broad daylight in the middle of a crowded shopping center on the Tel Aviv beachfront on Saturday. Last week, a man was killed from a car bomb in Kfar Shalem neighborhood in Tel Aviv.

The week before that, two people were killed in a car bomb in Petah Tikva, not far from a kindergarten and a school. Police has said this was likely a "work accident" and that the two dead were not the targets of the bombing. Three adults and an infant were also lightly injured from shrapnel.

Two days after the Petah Tikva bombing, unknown assailants tried to kill a criminal known to the police by detonating an explosive as he was driving into Moshav Heletz in the South. Both the target and the other person in the car with him were unharmed.

Eli Senyor contributed to this report.