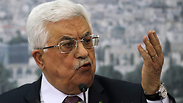 PA President Abbas meeting with Israeli students in Ramallah.
Photo: EPA
RAMALLAH - Palestinian Authority President Mahmoud Abbas has told some 300 young Israelis visiting him on Sunday in the West Bank that he does not want to "drown Israel with millions of (Palestinian) refugees to change its nature."
Abbas' comment was his most conciliatory yet on the fate of Palestinian refugees who were uprooted from homes in what is now Israel, including in the 1948 War of Independence that followed Israel's creation.
"The propaganda purports that I want five million refugees to return. This is false and will not happen. We need to solve the refugee problem, but we do not want to drown Israel with refugees," Abbas said, adding that there needs to be a "moral solution" the refugee issue.
"There is no escape from a just solution that both sides can agree on. No one will force a solution on the other," he said. Abbas told his Israeli visitors he seeks a "creative solution" for refugees, suggesting he is not demanding a blanket "right of return."
Today, the refugees and their descendants number about five million people. In Israel, there is broad consensus against accepting a large-scale resettling of these refugees in any future peace deal with the Palestinians, amid fears the returnees would dilute Israel's Jewish majority.
'What do you want from us?'
"I am happy for this meeting. It should have happened a long time ago," Abbas said of the beginning of the meeting. "I want to meet the young generation in Israel. Everything we are doing these days is for the young generation in Israel and Palestine, it's for their future. The younger generation of Palestinians is similar to the Israeli one in that it wants peace."
After blasting settlement construction in the West Bank and East Jerusalem, Abbas commented on the Israel demand that Palestinians recognize Israel as a Jewish state.
"What do you want from us? You made peace with Jordan and Egypt and didn't demand such recognition. If you want recognition of Israel as Jewish state you can go to the UN and ask for it."
'Incitment exists'
Regarding the claim that the Palestinian education system incites against Israel – a claim recently made by Prime Minister Benjamin Netanyahu – Abbas said "(In Israel) they write that Palestinian education materials and television is full of incitement.
"This is true, there is incitement. But we agreed years ago to form a committee of Israelis, Palestinians and Americans which will examine both Palestinian and Israeli incitement and put an end to it. I don't want to point fingers – we have been saying (this) for years… and unfortunately there is no response from the Israeli side."
In regards to accusations of Holocaust denial, Abbas said "I acknowledge the Holocaust and the fact that millions were killed."
The Associated Press contributed to this report