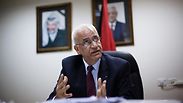 Saeb Erekat
Photo: Reuters
Palestinian chief negotiator: If talks fail, PA will collapse
Saeb Erekat warns that Palestinians will take Israel to 'international tribunal and join calls for economic sanctions' should Kerry's talks fail, but warns worst result would be 'collapse of Palestinian Authority' which would force Netanyahu to take control of West Bank.
The chief Palestinian negotiator says that if US-brokered peace talks fail to result in an accord, then the Palestinian will call for an economic boycott of Israel, in contradiction to conciliatory statements made by Palestinian president before a group of Israeli students.

Saeb Erekat made the comments during an interview given to Al-Jazeera last Friday before an audience of hundreds of students at Britain's Oxford University.

"Turning to international tribunals, to UN bodies, and joining a call for economic sanctions - all that will come if Kerry's initiative fails," Erekat said when asked why the Palestinians do not petition the ICC and ICJ at this time.

According to Erekat, the Palestinians promised not to attempt to try Israel in international courts, and in return secured the release of 104 Palestinian prisoners. Therefore, he explained, no suits would be filed until the fourth and final round of prisoners are released.

According to the Palestinian negotiator, the PA is preparing for a "blitz" of lawsuits against Israel in The Hague, claiming the Palestinians have more than 50 petitions signed and ready, should talks fail.

Regarding the possibility of extending the nine-month timeframe set for the talks, Erekat said "We will not extend the negotiations for one minute beyond 29th April." Recent reports have claimed that Israel is currently working to extend the deadline.

When asked what would happen after the talks reach their April deadline, Erekat said that "the PA cannot sustain its current position."

In such a case, "If Kerry's negotiations fail, the (Palestinian Authority) will collapse. Netanyahu will have to take over (the West Bank) and this is going to be very ugly."

Earlier Sunday, Palestinian President Mahmoud Abbas made rather conciliatory remarks before a group of Israeli students, saying he had no intention on "drowning Israel with refugees."

Abbas also claimed that Palestinian incitement exists, but promised that the younger generation of Palestinians were interested in peace.