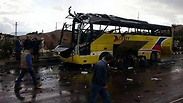 Image of tourist bus hit in Sinai explosion
Dozens of Israeli ambulances and even a medical helicopter have been waiting for hours on the Israeli side of the Taba border crossing in the hopes of aiding the wounded in Sunday's terror attack – but Egypt will not let them enter.

Eilat's Yoseftal hospital has been waiting to aid those wounded in the terror attack on a tourist bus which left three Korean travelers and one Egyptian dead.

Related stories:

The Egyptian paper Al Youm Al Saaba has reported the Egyptian authorities have refused Israel's request to assist them, barring the entrance of ambulances into Egyptian territory in Sinai. Following the blast, the Taba border was sealed off, but both the Egyptian and Israeli sides are now open, thus allowing Israelis in Sinai to return to Israel safely.

Itzik Hai, head of the Taba crossing said "we contacted (the Egyptians) through our liaisons and offered help. Ambulances arrived at the (Taba) crossing within minutes and they are still here (as of Sunday evening) but the Egyptians have not yet allowed them to enter. On the other hand they claim they have transferred some 20 wounded people to hospitals in Nueba and Sharam (al Sheikh)."

Hai added that "the few tourists that wanted to cross into Egypt have returned to Eilat. We have a deal with Egypt according to which we are ready to receive the 100 Israelis currently in Sinai. We are trying to push the Egyptians to let us enter with the ambulances to evacuate them to Yoseftal Hospital in Eilat."

At least four people were killed and dozens wounded in an explosion Sunday on a tourist bus in Egypt's Sinai near the Israeli border, Egyptian military and police said.

Three of the victims were South Korean tourists, and the fourth was an Egyptian bus driver, Egyptian security officials said.

The officials said the source of the explosion was not clear, but they believe it was either a car bomb or a roadside bomb that was detonated by remote control. The Ansar Bait al-Maqdis terrorist group reportedly took responsibility for the blast.

Shahar Hay contributed to this report.