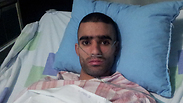 Mohammed Sa'adi: I was choking on the floor
Shocked and injured, the residents of the Acre apartment block destroyed by a gas explosion early Monday morning were taken to hospitals in the northern area. Five people were killed in the blast, including two parents and their eight-year-old son.

"I couldn't breathe, I was really choking," says Mohammed Sa'adi, 25, who was pulled from the building after the blast. "I was on the floor for about an hour, until my cousin came to save me."

Sa'adi was in the shower when the building collapsed, and says he heard several explosions. "There was one blast, and another a few seconds later, and then another."

"The whole house we were in fell apart. The walls and the ceiling fell on me. There was a pungent smell. There were other people buried under the rubble," he recalls.

Sa'adi was taken to a hospital in nearby Nahariya. He doesn't rule out the possibility that this was a deliberate explosion.

For Elena Haluani, news of the blast was punctuated by fear for her son and daughter, who live in the block. Her 18-year-old son, Omer, had indeed been caught up in the tragedy.

"I live in a different area of Acre and I got a phone call from my daughter," says Haluani, as she sits by Omer's hospital bedside.

"My daughter said that there had been a building collapse and she didn't know where Omer was. She lives in the next apartment. My heart told me something had happened, and he wasn't answering the phone. When I got there, they told me that Omer was okay, that they had rescued him, but I couldn't find him until I got here to the hospital."

The wounded were taken to hospitals in Nahariya and Haifa throughout the night, among them was senior fireman Rafi Weizman, who arrived at about 5 am with a minor light injury.

"I went into the hole in the building and twisted my ankle," he says. For him, the scenes at the site of the explosion were hard to stomach. "A three-story building has become a site of devastation 10 meters high. It was hard working there without causing a further collapse." But, he sas, the night's work was not without its rewards: "At the very outset, we managed to rescue a family – parents and two children."

Firefighter Samir Bateah, who is with him, says initial rescue efforts were conducted by local residents, as well as volunteers from the Old City of Acre.

"When we arrived, the neighbors and relatives told us where some of the trapped survivors were located," he says. "We immediately rescued the family and an elderly woman on the third floor, but I fear for the fatalities at the scene."

The director of the medical center in Nahariya, Dr. Masaad Barhoum, says the hospital is prepared for a multi-casualty event. Even so, survivors were brought in at a slow pace, allowing manpower to be adequately allocated and essential staff at their posts.

"We took in seven injured people; one seriously hurt and the rest in light-to-moderate condition," he says. "We don't know yet how many wounded are expected, we know there are people trapped, some in contact with rescue teams and others who aren't."