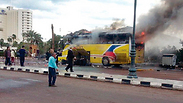 Bus bombing in Sinai
Photo: Reuters
A bombing that killed three South Koreans and an Egyptian driver on the Sinai Peninsula on Sunday had targeted a bus filled with Korean Christians who had saved for years to visit sites mentioned in the Bible for their church's 60th anniversary, officials said Monday.

The bus was carrying 33 South Koreans, an Egyptian guide and an Egyptian driver, said a woman working in South Korea's Foreign Ministry press office. She spoke on condition of anonymity because office rules prevented her from giving her name to reporters. One church member, two South Korean guides and the Egyptian driver were killed, and another 14 were wounded, according to government and church officials and media reports.

The bus was carrying 31 parishioners from Jincheon Jungang Presbyterian Church, which is south of Seoul, and was heading to Israel from Egypt, church curate Choe Gyu-seob told reporters.

He said the church had long saved money to commemorate the 60th anniversary of its founding with a trip to biblical sites. According to an itinerary provided to local media by the church, the sightseers left South Korea last Monday and were to visit Turkey, Egypt and Israel over two weeks.

Related stories:

"My mother was a devout Christian," the daughter of one of the victims told South Korea's Yonhap news agency. "I don't know how such a thing could happen. I don't know how to react to this."

Other church members, some of them sobbing, refused to talk to reporters in front of the church on Monday.

On Sunday, the bus had gone to an ancient monastery in Sinai and was about to enter Israel from the border town of Taba, Egyptian security officials said.

No one has claimed responsibility for the blast, which bore the hallmarks of attacks blamed on al-Qaeda-linked militant groups that have been battling government forces in Sinai's restive north for years.

Nearly 30 percent of South Koreans are Christian, and many are active in overseas mission work, with more than 25,000 missionaries dispatched to 169 countries, according to the Korea World Missions Association's 2013 report.

That mission work came in for sharp criticism in 2007 when a group of 23 South Korean Christians was taken hostage by the Taliban in Afghanistan. Two male hostages were killed during a standoff, while the rest were eventually released. The church that sent its parishioners to Afghanistan has insisted that the trip was only to provide humanitarian aid and not to perform mission work.

Sunday's bombing was the first attack against tourists in Sinai's southern region since a spasm of bloodshed in 2004-6 that killed about 120 people.