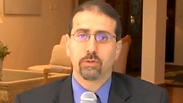 US Ambassador Dan Shapiro
Photo: Amir Levy, Nitzan Dror
American Ambassador to Israel Dan Shapiro does not believe that the draft for a framework agreement between Israel and the Palestinians will be light on substance, as detractors of the US-led process have claimed.

"I think there is real, significant content in the document," Shapiro told Ynet in a special interview Monday. "It doesn't mean that each side will agree with each word, and there will still be many subjects to deal with in the negotiations for a final agreement."

Israel and the Palestinians have an opportunity to reach the much-desired framework agreement before the end of the nine-month negotiation period set by the two sides at the beginning of the current push for peace, Shapiro said.

"I think we have a good chance to reach a framework agreement before the end of the nine-month period we allotted before we entered negotiations," he said. "The framework will allow the talks to continue."

Related stories:

"But I do expect that there will be content to address each central issue, and even if one side or another has a problem with the actual document, its existence will allow for the negotiations to continue," he added.

When asked about Kerry's sudden disappearance after the US Secretary of State visited Israel 10 times in 2013, the American ambassador in Israel said Kerry has been involved in the negotiations daily and will return to the region soon, likely after Prime Minister Benjamin Netanyahu's trip to Washington, DC in March.

The trip to Washington, however, will not include a presentation of the framework document to the Israeli leader, according to Shapiro.

"I don't think that is the point of the meeting. The meeting is an opportunity for the leaders to reflect on the progress achieved, and maybe look into the details that are still in progress. We still have time before the beginning of March to finish the work on the framework before the end of April," he said.

The ambassador also touched on Foreign Minister Avigdor Lieberman, who recently exhibited a more moderate stance on the negotiations with the Palestinians.

"We worked with him in his previous term as foreign minister, and we continue to cooperate with him. We appreciate his spirit of cooperation very much," said Shapiro.

Concerns about the negotiations with Iran regarding its nuclear capabilities, a hot topic in Israel, were addressed by the ambassador: "Now we're in a period that we have six months to try to reach a comprehensive agreement that will ensure Iran does not have a nuclear weapon. This is the aim, it's a clear goal."

He added, "(This) is a joint goal of the US and Israel and many other countries, and we believe that this period gives us a chance, but we cannot be sure, so we have other options on the table, if they are needed."