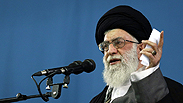 Iranian Supreme Leader Ayatollah Ali Khamenei
Photo: EPA
TEHRAN - Iran's top leader said Monday that he doubts talks aimed at sealing a final deal between Tehran and Western powers over the Islamic Republic's disputed nuclear program will succeed, a day before the negotiations begin.

Supreme Leader Ayatollah Ali Khamenei said he had accepted the talks at the behest of some Iranian leaders, but blamed what he saw as their likely failure on the United States, saying Washington is using the issue as an excuse to pressure the country.

"The nuclear issue is an excuse," Khamenei said in a speech broadcast on state TV. "Even if one day, against all the odds it is solved based on the Americans' expectations, then Americans will seek another issue to follow it. Just pay attention to the spokespersons of the US government, who have also raised the issue of human rights, missiles and arms," said Khamenei.

Related stories:

"The job that foreign ministry has started will be continued," he said however. "Iran will not violate what it has promised but Americans are hostile toward the Islamic Revolution and the Islamic Republic."

In other comments posted on his website, Khamenei, who has final say on the country's nuclear program and all state matters, repeated his pessimism about the talks that begin Tuesday in Vienna.

"Right now I say they will have no benefit and will lead nowhere. But of course officials should apply their efforts," he said in the comments.

The talks will bring together the five permanent members of the UN Security Council plus Germany and aim at finalizing a historical initial deal reached in November in Geneva.

Under that six-month accord, Iran agreed to cap its nuclear program in return to limited sanction relief by the West.

Khamenei has given his blessing to recent outreach policies of moderate President Hassan Rouhani. But he also has regularly stuck to the line that the United States is fundamentally Iran's adversary.

The US and its allies believe Tehran's program is intended to produce a nuclear weapon. Iran denies the charge, saying its nuclear activities are aimed at peaceful purposes like power generation and medical treatment.

The nuclear deal is the centerpiece of Rouhani's policy. The country stopped enriching uranium to 20 percent on January 20 and started neutralizing its existing stockpile of material enriched to that level - just steps away from weapons grade - in order to fulfill commitments reached under the interim deal.

In return, the US and the EU simultaneously announced the lifting of sanctions on petrochemical products, insurance, gold and precious metals, the auto industry and passenger plane parts and services.

They also plan to release $4.2 billion Iranian assets from oil revenues blocked overseas, in eight installments over a period of six months. The first installment of $550 million was provided to Iran on February 1, according to Iranian officials.