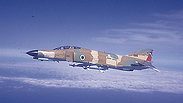 Air Force F-4 Phantom
Photo: Israel Air Force journal
A joint American-Greek investigation revealed that Israeli arms dealers tried to smuggle spare parts for F-4 Phantom aircrafts to Iran through Greece, in a breach of the arms embargo imposed on Tehran, Greek newspaper Kathimerini reported on Sunday.

The investigation, conducted by American Homeland Security along with the Drugs and Weapons Unit of Greece's Financial Crimes Squad, revealed that the operation was carried out in two stages – one in December 2012 and the second in April 2013.

In both cases, Greek investigators were tracing the caches containing the spare parts that reached Greek territory.

Related stories:

According to the report, the containers were shipped from the Binyamina-Givat Ada Regional Council and their destination was Iran.

The cargo was to be shipped through a Greek firm by the name of Tassos Karras SA, that was discovered to be a ghost company.

The US-led investigation found that Israeli arms dealers are behind the deal.

In 1979, the United States imposed sanctions on Iran after the Islamic Revolution that ousted the American-backed Shah. The sanctions were expanded in 1995 and included companies that had businesses with the Iranian government.