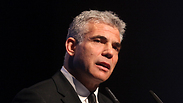 Yair Lapid
Photo: Chen Galili
Finance Minister Yair Lapid (Yesh Atid) made a passionate plea for peace Monday, saying his country must do everything in its power to reach an accord with the Palestinians since the current situation posed a "threat to the future of the state of Israel."
Lapid told a group of visiting Jewish-American leaders that if current peace talks collapse it will be "nothing less than devastating" to the welfare of Israeli citizens. But beyond risks to the economy, he said failure to establish a Palestinian state would leave Israel facing a demographic threat that could undermine its Jewish and democratic nature.
Lapid speaking at the Conference of President (צילום: בראל אפרים)
"Every moment in which we do not separate from the Palestinians is a downright threat to the existence of Israel as a Jewish state," he said. "This is not a marriage that we seek with the Palestinians. This is a divorce."
Related stories:
The Palestinians seek the West Bank and East Jerusalem as part of their future state. More than 500,000 Jewish settlers live in these territories, which along with the Islamic Hamas-controlled Gaza Strip, were captured in the 1967 Six Days War. The Palestinians say continued settlement construction make it ever more difficult to divide the land, leading to a potential scenario in which Arabs living under Israeli rule could one day outnumber Jews.
Lapid warned that zealots on both the left and the right had delusions that a bi-national state could emerge in the Holy Land, but that Israel could not accept a situation in which millions of Palestinians demand the right to vote for the Knesset.
"The options we will have is to refuse, and stop being a democracy, or to agree, and stop being a Jewish state," he warned. "These are two bad options. These are two options that need to be prevented. The state of Israel does not need to a rule another nation or another people. This is against Jewish morals. This is against the core idea of building here an exemplary society."
Israelis and Palestinians have been conducting behind-the-scenes negotiations for nearly seven months. With an April 29 target date approaching, there have been no outward signs of progress, and the talks have mostly been characterized by each side accusing the other of hindering the negotiations with rigid demands.
Lapid, whose centrist Yesh Atid party has strongly supported the talks, said a peace deal was possible and derided those who had concluded ahead of time that they would fail. He didn't let the Palestinians off the hook either, accusing them of failing to have the courage of making the needed compromises of their own, but said Israel must take responsibility for its actions.
"Peace is not a dream. Peace is the only practical option that will assure us a life in a Jewish state with recognized borders and prosperous economy that the international community will welcome," he said.
Also on Monday, Bank of Israel Governor Karnit Flug said demographic changes such as aging and the larger proportion of Arabs and ultra-Orthodox Jews in society threaten the country's long-term growth prospects.
Karnit Flug spoke a day after Israel's Central Bureau of Statistics announced that Israel's growth rate for the second half of 2013 was 2.8 percent - down from a 3.8 percent rate the previous year.
She said the low rate of employment among ultra-Orthodox men and Arab women in particular is hindering growth. She said both segments were showing increased employment, but without a drastic change Israel would suffer in comparison to other developed nations.
Arabs make up about 20 percent of Israel's 8 million citizens. The ultra-Orthodox are less than 10 percent. Both are among the fastest growing segments of society.