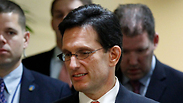 US House Rep. Eric Cantor
Photo: AFP
US House Representative Eric Cantor criticized President Barack Obama's foreign policy Monday by citing the lateness of US actions against the Nazis in World War II.

"Hitler's rise and conquest of Europe did not come as a surprise... We must not repeat the same mistake by reducing our preparedness, accepting the notion that we are one of many or ceding global leadership to others," Cantor said during a speech at the Virginia Military Institute.

"We mustn't let ourselves be lulled into complacency again or forget the lessons of history," he added.

Related stories:

Cantor cautioned against Iran's "evil and hateful ideologies," saying "I can imagine few more destabilizing moments in world history than Iran on the threshold of being a nuclear power."

If given the opportunity, Cantor cautioned, "Iran's leaders would make good on their call to wipe Israel off the map, and armed with nuclear weapons would be a threat to all within range of their missiles, which someday soon may include our own shores."

"An America that leads is an America that must work to restore the badly eroded international pressure on Tehran," he said. "We should lay the groundwork now for additional sanctions in the event Iran violates the terms of the interim agreement."

Cantor also talked about the delegation he led to the Auschwitz and Birkenau extermination camps.

"As an American and a Jew, I was struck by a torrent of emotions filled with horror, pride, and regret," he said.

"Horror at the scale of the camps, at the industrialization of human slaughter. These death camps are places of pure evil, cauldrons of hatred that even today shock the conscience at how brutal human beings can become when left unchecked," Cantor continued. "Pride in America's role in liberating Europe from Nazism and ending the Holocaust."

"And, standing there as the frigid wind swept through the eerily quiet ruins of the camp, I could not help but regret that American action in World War II came too late to save countless millions of innocent lives," he added.