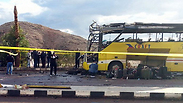 Sinai bus attack
Photo: AFP
CAIRO - A militant group based in the Sinai has claimed responsibility for a bomb attack on an Egyptian bus in the desert peninsula that killed three South Korean tourists and an Egyptian driver.
Ansar Beit al-Maqdis, Arabic for Champions of Jerusalem, said in a statement posted on militant websites late Monday that one of its "heroes" carried out Sunday's bombing in Taba as part of an "economic war" against the army-backed government.
Related stories:
The group has also warned tourists to leave Egypt "before it's too late" and threatened to attack anyone who stays in the country after a deadline of February 20.
Egyptian officials have called it a suicide attack, but the Ansar statement did not use any language that would suggest the perpetrator was dead.
The al-Qaeda-inspired group has claimed responsibility for previous attacks, but until now they have targeted primarily police and the military.
The authenticity of the statement could not be verified but it was posted on al-Qaeda-affiliated websites.
Reuters contributed to this report