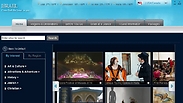 Video offers 33 viewing options and 72 different touring itineraries
Screenshot
A new interactive video designed to encourage incoming tourism to Israel went live recently on the Tourism Ministry website. The viewer can choose the virtual tour he or she wishes to take, in keeping with personal interests and tastes.

Tourism Minister Dr. Uzi Landau has demonstrated the latest technologies that the Tourism Ministry is using to market the country as a tourism destination at IMTM 2014, the Annual International Mediterranean Tourism Market taking place in Tel Aviv.

Travel Industry

Some 200,000 tourists visited Israel last month for more than one night, a 19% increase from January 2013 and an all-time record for the month

The interactive video encourages personal engagement and heightens interest in the content. It video uses a unique platform from the Interlude company, which specializes in interactive videos and was recently placed first in a Time Magazine listing of best clips for 2013 with its clip for Bob Dylan's song "Like a Rolling Stone."

The video invites the viewer to choose from three characters who will lead him/her through those places in Israel that best suit their personalities. These include a tour guide who specializes in religion, history and culture; a young woman whose interest is lifestyle and a young man interested in adventure. Each one takes the viewer on a tour of Israel, during which he or she can select preferred destinations to visit.

The video offers 33 viewing options and 72 different touring itineraries. At the end of the video, the viewer can share his choice via Facebook or Twitter.

The Tourism Ministry will promote the video via the internet and social media in order to encourage incoming tourism and position Israel as an interesting, attractive and contemporary tourism destination.

"This video represents a significant step in the overall program to reach wide and diverse audiences around the world. Israel has everything the tourist could ask for, and our task is to illustrate this in the best way possible," said Minister Landau.

The video, produced at a cost of NIS 687,000 (about $195,700) by the ministry's Digital Advertising and Marketing Division via Saar Promarket by Jiminy Productions, can be viewed on the Tourism Ministry's English-language site at http://www.goisrael.com/InTourIL.

In addition, it can be downloaded via Appstire for iPod and iPhones under the name Intour il.