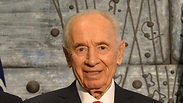 Shimon Peres
Photo: Mark Neiman, GPO
Prime Minister Benjamin Netanyahu is considering a change to the system of election of the president, Army Radio reported Wednesday, and is looking to extend President Shimon Peres' term by one year in order to faciliate the process. Peres is due to end his term in July.
The president is currently chosen in a vote by Knesset members, leading to ongoing accusations that the process is deeply politicized. Peres took over as president in 2007, after his predecessor Moshe Katsav was forced to step down due to sexual assault allegations. Katsav is now serving a prison sentence for rape and other crimes.
According to the Israeli media, government officials confirmed that the proposal is being considered, but stressed that it is just one of many options being floated. One other possibility, they said, is to cancel the post of president altogether.
Senior Labor MK Eitan Cabel told Army Radio that the idea will come to nothing, and accused Netanyahu of seeking to make political gain from a populist move.
"The prime minister's (political) plight is clear," he said. "But we do not live according to his pressures." Cabel said that the idea of a public election for president is not a bad one, but added that "the prime minister is not promoting this move out of any anxiety over the wishes of the public."
The leading contenders to replace Peres in July are elder statesmen Labor MK Benjamin Ben-Eliezer, a former party leader and one-time defense minister, and former Knesset Speaker Reuven Rivlin of the Likud. Nobel laureate Dan Schechman and retired Supreme Court justice Dalia Dorner have also announced their intention to run for the post.