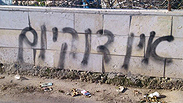 Graffiti reads: No coexistence
Some 30 cars had their tires slashed and anti-Arab graffiti was daubed on walls of a village in East Jerusalem overnight Tuesday, in what is being seen as the latest in a spate of "price tag" attacks by far-rightist Israelis.
Jerusalem Police are investigating the attack in the Arab village of Sharafat, close to Gilo.
The phrases "No coexistence" and "Arabs = thieves" were sprayed on walls of the village. The attacks were discovered Wednesday morning.
Village residents called the police when they discovered the vandalism, and officers were dispatched to the scene to gather evidence.
Three masked assailants carrying backpacks entered the village at around 3am, security camera footage obtained by Ynet shows. One of the men appears to be giving directions to the other two.
Security camera footage from Sharafat (צילום: מצלמות אבטחה)
The footage shows them heading toward the home of the head of the village, and then making their way down the street to attack the cars.
Related stories:
"They punctured the tires on three of my cars and my neighbors had the tires of 18 cars slashed," said Ismail, the head of the village. "My neighbors have a camera, and you can see three people going from car to car and stabbing at them."
"There is a big mess here. No one can leave their homes to go to work," he continued. "The police have taken down the details, but this is not the first time that they have done this. People are angry.
"We're used to having racist things like this written, such as "death to the Arabs", and it's a real shame."
These attacks, which occur on a regular basis, are known as "price tag" attacks as they are considered to be a direct reply by far-rightists to peace moves with the Palestinians.