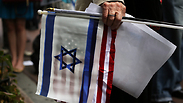 Pro-Israel rally in New York
Photo: AFP
A new poll by Gallup shows that 72 percent of Americans have a favorable view of Israel, up from 66 percent last year.

The annual Gallup World Affairs poll, conducted from February 6-9, also shows a relatively stable perception among Americans of Israel and seven other "important" Middle East countries - Iran, Iraq, Syria, Egypt, the Palestinian Authority, Saudi Arabia and Libya.

Related stories:

The positive view of Egypt and the Palestinian Authority also increased by small margins. Forty-five percent of Americans said they had a favorable perception of Egypt, up from 40 percent in 2013, and 19 percent expressed a favorable view of the PA, up from 15 percent the year before.

Israel is by far the most positively viewed Mideast nation among Americans. The country scoring the next highest is Egypt, followed by Saudi Arabia, with 36 percent of the US population having a favorable perception of the country, a minute dip from the 35 percent of 2013.

Just 13 percent of Americans have a positive view of Syria, the poll found, slightly higher than the 12 percent who have a favorable view of Iran.