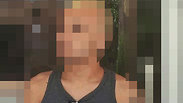 The state witness in the Barnoar case
Israel Police and the State Attorney's office decided Wednesday to arrest the state witness in the Barnoar case after new information came to light about the shooting that left , 16, dead and several others at the LGBT center wounded.

"The police recently uncovered new information that pertains to the murder case. Given this information, the police and state attorney decided to investigate further, as well as arrest the state witness in order to question him," a statement from the police read.

The court issued a gag order on any details of the renewed investigation, in accordance with a police request.

Related stories:

The state witness' attorney said that the police prevented his client of consulting with him and that the state witness was not told what are the suspicions attributed to him.

"It is important to note that the case is based almost entirely on the testimony of the state witness, who was not present when the murder took place," Attorney Yair Regev said.

"The police and state attorney are likely trying to back out of the indictment and accuse the state witness of their failure to investigate (accused shooter) Hagai Felician," Regev added.

Felician was indicted on two counts of murder and ten counts of attempt murder in July following the state witness' testimony. The Barnoar's manager at the time of the 2009 murder, Shaul Ganon, will serve as a witness for the prosecution.

The state witness was moved to the witness protection program in June, after trying to escape and being recaptured. It was revealed that he will receive NIS 120,000 to rehabilitate himself financially.

According to the indictment, Felician was told the Barnoar center's then-manager Ganon sexually assaulted his (Felician's) brother Benny, and sought to kill Ganon as revenge.

Felician approached the state witness for information about Ganon and the club, including the nature of the club and its opening hours, according to the indictment.

He is accused of intentionally seeking to harm Ganon, as well as intentionally seeking "to kill the center's comers out of anger (at Ganon) and out of hostility towards their sexual orientation."

According to the indictment, Felician "held the gun and fired at those in the center's main room, intending to kill those within range indiscriminately. Afterwards, the defendant entered the center's side rooms, sought out additional victims, and fired at them while intending to kill many of them. The defendant left the scene only after he ran out of ammunition."