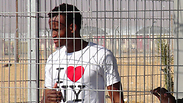 An African migrant at the Holot detention center in the Negev.
Photo: Barel Efraim
Dozens of African migrants have accepted an offer to relocate to Uganda, an Israeli official said Wednesday, part of the Jewish state's efforts to cope with an influx of migrants from the continent.

The announcement came weeks after officials said a third country, which they refused to identify, would soon begin to accept migrants who had gone to Israel.

About 53,000 African migrants, mostly from Eritrea and Sudan, have poured into Israel in recent years. The Africans say they are fleeing persecution and danger. Israel says they are job-seekers, but does not deport them because they could face danger in their conflict-ridden countries.

Related stories:

The influx has caused friction with locals and alarmed authorities, who say Israel's Jewish nature is threatened by the presence of the Africans. But rights groups have said Israel has an obligation to protect the migrants, in part because of Israel's history of taking in Jewish refugees following the Holocaust.

The official said Israel paid $3,500 each in recent weeks to about 30 migrants who agreed to leave for Uganda. He spoke on condition of anonymity because he was not authorized to speak to the media on the matter.

Ugandan officials denied any deal was in place. "We are not privy to such an arrangement," said David Kazungu, a Ugandan government commissioner who is in charge of refugees.

Uganda has hosted hundreds of thousands of refugees over the years, often women and children fleeing outbreaks of violence in neighboring countries such as Congo and South Sudan. Uganda also has good diplomatic relations with Israel and enjoys close security ties. Israeli investments in Uganda include infrastructure development, water management and agriculture.

Uganda's long-serving president, Yoweri Museveni, has been known to exercise close control of the country's foreign and military policies, often taking positions and signing deals without the knowledge of senior government officials, technocrats, and even lawmakers.

If a formal or informal agreement was reached with Israel, one independent lawmaker said, it likely involved Museveni or an official very close to him.

Ugandan lawmaker Gerald Karuhanga urged Uganda's parliament to actively investigate the allegations. "In case it is true, that would be a very unfortunate mistake, because you don't know the kind of people you are receiving in the country," he said.

Israel's Interior Ministry and the Prime Minister's office declined comment.

Israel has used financial incentives in the past to encourage other African migrants to leave. In 2012, Israel paid South Sudanese migrants to return to their country and told them they faced arrest if they did not agree to do so. Israel has good relations with newly independent South Sudan.

Last month, Israel began sending African migrants to a new detention center in Israel's south. Daniel Solomon, a legal adviser for Israel's Interior Ministry, said at the time the migrants would remain there while Israel processes asylum requests, searches for other countries to take them in, and offers migrants incentives to leave.

The new Holot detention center is meant to be an "open" facility, where residents can come and go. But they must sign into the facility several times a day and sleep there, making it impossible for them to stray far away or hold jobs.

The Interior Ministry has begun issuing summons for people to report to Holot when they try to renew visas that had previously allowed them to stay in the country. The effort has started with young males who have been in the country for the longest amount of time. Those who do not comply face possible arrest and imprisonment.

Last month, African migrants staged a series of demonstrations in Tel Aviv demanding they be recognized as refugees -- a status that would give them residency rights.