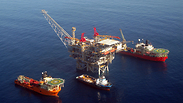 Tamar drilling platform
Photo: Albertos
The partners in the Tamar natural gas field off Israel's Mediterranean coast have signed a deal to sell at least $500 million of gas over 15 years to two Jordanian companies in the first deal outside of Israel.

Under the agreement, Tamar will supply 66 billion cubic feet to Arab Potash and its unit, Jordan Bromine – a joint venture with US Albemarle – at their facilities near the Dead Sea, Noble Energy said on Wednesday.

Energy Export

Australian leader in liquefied natural gas agrees to buy 25% of Leviathan gas field, tilting Israel's decision on method of gas export away from pipeline option

Texas-based Noble owns 36 percent of the field. Israel's Delek Group, through its units Avner Oil Exploration and Delek Drilling, holds a 31.25 percent share. Isramco Negev has a 28.75 percent stake, and Dor Gas Exploration holds 4 percent.

Jordan is hungry for gas amid numerous attacks on a pipeline in the Sinai peninsula that has halted supplies from Egypt.

Tamar, discovered in 2009, is estimated to hold more than 280 billion cubic metres of gas. It began production last March and has already signed a number of lucrative deals in Israel.

The field came on line months after Egypt halted gas supplies to Israel.

After a lengthy and heated debate, the government last year decided to allow 40 percent of its natural gas reserves for export. It is using gas as an opportunity to improve relations with its neighbours including Jordan. It is also thought Israel could ultimately sell gas to Turkey, although ties between the two countries have been frosty over the last few years.

The nearby and much larger Leviathan field last month signed a 20-year, $1.2 billion deal to supply gas to planned a Palestinian power plant once Leviathan starts production in 2016 or 2017. Leviathan is estimated to hold some 540 billion cubic metres of gas, enough to supply Europe for a year.

Tamar and Leviathan were the two of the largest gas finds in the past decade and overnight turned Israel into a gas exporter.

Tamar's sales to Jordan are expected to start in 2016 once minimal required infrastructure has been completed.

The selling price will be based on a floor of at least $6.50 per one thousand cubic feet of gas with upside linked to the price of Brent crude oil. Noble said it would also charge a fee for marketing and sales services and for the transfer of gas to Jordan. Gross revenue is expected at $500 million with actual sales dependent on final purchased quantities and oil prices at the time of sale, Noble said.

"This deal will pave the way for additional export projects which could enhance regional cooperation as well as provide additional supply to the domestic market and enhanced security of supply through development of additional reservoirs and infrastructure," said Lawson Freeman, Noble's Eastern Mediterranean vice president.

Completion of the deal is subject to various closing conditions and regulatory approvals.

Noble said it was in a "number of additional negotiations to sell significant quantities of natural gas from both fields to multiple customers."

Earlier this month, Australia's Woodside Petroleum signed a deal to take a 25 percent in Leviathan for up to $2.55 billion.