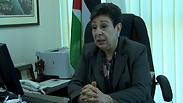 Hanan Ashrawi
Photo: Eli Mandelbaum
Ideas floated by Washington so far for an Israeli-Palestinian peace framework don't provide a basis for serious talks, a Palestinian official said Wednesday, signaling continued deadlock as an April deadline approaches.

US Secretary of State John Kerry has not yet presented his final vision, but he has raised ideas in meetings with the two sides. The framework would outline the final deal on setting up a Palestinian state next to Israel.

Related stories:

The framework is expected to say that the new border will be based on Israel's pre-1967 war frontier, with some modifications.

Israel captured the West Bank, Gaza Strip and east Jerusalem in that war, lands the Palestinians want for their state. Israeli Prime Minister Benjamin Netanyahu has so far not recognized the 1967 lines as a basis for negotiations.

Palestinian officials have expressed concern that the US will attempt a trade-off and, in exchange for Israel's recognition of the 1967 lines, demand that the Palestinians recognize Israel as the homeland of the Jewish people.

Netanyahu insists on such recognition, arguing that this would offer reassurances that the Palestinians are ready for genuine peace.

Hanan Ashrawi, a senior PLO official, said Wednesday that the Palestinians are not encouraged by what they have heard so far.

She told reporters that "if the (Kerry) document is so far as we have seen ... then it is not even a starting point."

Ashrawi said it's not clear whether the Palestinians will leave the talks or accept an extension if there is no agreement on key issues by the end of April, the target date for an agreement set by Kerry when talks resumed in late July.

Each side fears being blamed if Kerry's mission fails. Kerry could try to avert a crisis by seeking to extend the talks and allowing both sides to express reservations about the framework – at the risk of gutting it of its meaning.

Outlining the Palestinian positions, Ashrawi said recognition of Israel as a Jewish state is a non-starter. She noted that the PLO already recognized the state of Israel in 1993 and alleged that Netanyahu manufactured the new demand about the Jewish state to create another bargaining chip in negotiations.

The Palestinians also fear that recognition of a Jewish homeland would strengthen Israel in its refusal to allow the return of Palestinian refugees and their descendants to what is now Israel. Hundreds of thousands of Palestinians were expelled or fled in the 1948 war over Israel's creation and with their descendants now number several million.

Palestinian President Mahmoud Abbas has said he's ready to consider creative solutions for the refugee problem. Earlier this week, he told 300 young Israelis visiting his Ramallah headquarters that he does not intend to flood Israel with Palestinian refugees – his most conciliatory comment yet on the issue.

A former Palestinian Cabinet minister from the Islamic militant Hamas on Wednesday criticized those comments, saying this meant Abbas was recognizing the Jewish state.

Later in the day, the ex-minister, Wasfi Kabaha, was attacked by four masked men who beat him with clubs and broke his left arm, according to Kabaha's wife. The incident occurred near the West Bank town of Jenin, she said.

Palestinian police said they are investigating.

Earlier Wednesday, suspected Israeli vandals slashed the tires of 30 cars and sprayed anti-Arab graffiti in an Arab neighborhood of Jerusalem, police said.

Jewish extremists, including militant settlers, have been carrying out acts of vandalism in recent years in the West Bank and east Jerusalem.

Mosques, churches, dovish Israeli groups and even Israeli military bases have been targeted in these so-called "price tag" assaults – often carried out in response to any attempts by the Israel to remove parts of unauthorized settlement outposts. The attacks have been widely condemned in Israel.