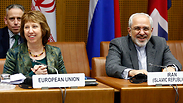 Ashton and Zarif
Photo: Reuters
Six world powers and Iran made a "good start" during very productive talks this week on Tehran's nuclear program and will meet again on March 17, European Union foreign policy chief Catherine Ashton said on Thursday.
Ashton, speaking to reporters after three days of talks in Vienna, said the two sides had identified the issues that would need to be addressed in negotiations on a final settlement to the decade-old nuclear dispute.
"We had three very productive days during which we identified all the issues we need to address (to reach a final agreement). There is a lot to do. It won't be easy but we've made a good start," Ashton said.
Technical experts would meet in early March, before the meeting of political directors on March 17, she added.
Ashton will travel to Tehran on March 9-10, ahead of the next round of nuclear talks with Iran, a Western diplomat said on Thursday.
Wendy Sherman, the head of the American delegation to the nuclear talks with Iran, will travel to Israel, Saudi Arabia and United Arab Emirates this week to discuss the course of the negotiations so far, the US State Department said on Thursday.
"Under Secretary for Political Affairs Wendy Sherman will be traveling to Jerusalem, Riyadh, Abu Dhabi and Dubai February 21-25 for consultations with their governments and representatives of the Gulf Cooperation Council following P5+1 negotiations with Iran in Vienna," State Department deputy spokeswoman Marie Harf said.
"The Under Secretary will also discuss bilateral issues during her travel," she added after Iran and six world powers agreed on an agenda and schedule for months of talks aimed at ending the dispute over Tehran's nuclear ambitions.
Austrian indecision
Meanwhile, Austrian President Hans Fischer has been invited to Iran, a country keen to revive ties with the EU member that for centuries was Tehran's bridgehead to Europe.

If he accepts, he would become the first Western head of state to visit since the election last year of relative moderate President Hassan Rouhani on a platform of relieving Iran's isolation by engaging constructively with its adversaries.

Austria has not yet decided whether Fischer – perhaps accompanied by Austrian business leaders – would visit, a step fraught with political significance amid US pressure on Western countries to limit business with Iran.

"The president has received an invitation to visit Iran," Fischer's spokesman said on Wednesday, declining to give any more details given the delicate diplomacy at stake.

Abas Aslani, general director of semi-official Fars News Agency, tweeted Thursday that Fischer had committed to the visit. The Austrian government has not confirmed the itinerary.

The United States warned France this month that French companies – which sent executives to Tehran – would be punished if they violated US sanctions with Iran over its disputed nuclear program.

A senior US official also visited Vienna last month to voice concern that Austrian companies, hoping to win post-sanctions business in Iran after an interim nuclear deal with world powers, visited Tehran in December.

That deal obliged Tehran to suspend its most sensitive atomic work in return for some relief from economic sanctions that have been imposed by the United Nations, United States and European Union.
Business talks
Iran has also invited Austrian Foreign Minister Sebastian Kurz to visit but a decision is still pending, the Foreign Ministry said.

"This would obviously depend on the way the talks are progressing with Iran," one diplomatic source said.

Iran had contacted Austria when its centrist coalition of Social Democrats and conservative People's Party took office again late last year after September elections.

"For one reason or another the Iranians have always considered us as a country which never in history was hostile," the source said, citing good ties that stretch back into the Habsburg empire.

European companies are sizing up the potential of an end to the economic isolation of Iran, attracted by an urgent need to overhaul its creaking infrastructure, a young population of 76 million and massive oil and gas reserves.

Gerhard Roiss, chief executive of Austrian oil and gas group OMV, was non-committal when asked by reporters whether he might accompany Fischer to Iran.

"It's too early to answer that but the important thing is to be in dialogue with Iran and we are," he said at OMV's annual results news conference. "There is no invitation to Fischer's trip yet. I believe no dates have yet been set."

US officials have taken a dim view of foreign companies' eagerness to line up business now banned with Iran.

"The major parts of our sanctions are in place and our underlying sanctions architecture is in place both on the oil side, on the financial and banking side, and if people try to evade our sanctions, we will find them," a senior Obama administration official told reporters in Vienna on Monday.

Austria's ties with Iran have already come under scrutiny.

Its counter-terrorism agency said in September it was checking dozens of cases in which foreign countries including Iran and North Korea may have tried to obtain technology that can be used to make weapons of mass destruction.