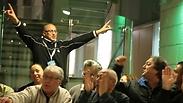 Hadassah workers celebrating going back to work
Photo: Amir Levy
The Hadassah doctors union and the Israeli Medical Association announced that after the medical centers' nursing and administration staff have reached a working agreement with the hospitals' management, the doctors return to work Thursday morning as well.

In a joint statement released Wednesday night, the Hadassah doctors said: "We are happy to announce that our demands were accepted and we can return to work under conditions that protect our safety and the quality of treatment for patients in the next three months."

The return to work was enabled after the Jerusalem District Court ruled that the doctors at the cash-trapped hospital will be given an expanded insurance policy, as requested by them.

The decision signifies that the Hadassah doctors and management are protected from malpractice lawsuits, thus paving the way to end their 16-day strike and enter a new stage of negotiations on a long-term agreement.

However, the doctors added as they returned to work, the battle for Hadassah has yet to end: "The ball is back in the government's court. The Hadassah crisis is a national crisis that requires the presence and involvement of the Israeli government. The agreement allows the hospital to go back to operating piece by piece, but it cannot survive without the government taking responsibility. The struggle has ended, but it is not yet complete."