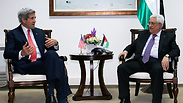 Nabil Abu Rudeineh, spokesperson for Palestinian President Mahmoud Abbas, said that "the Palestinians will not sign a framework agreement or a final agreement that do not represent the Palestinian positions."
According to Abu Rudeineh, the core principles which Abbas deems non-negotiable revolve around the positions which Prime Minister Benjamin Netanyahu has long considered off-the-table:
No Palestinian state without East Jerusalem as its capital
A future Palestinian state must be established on the 1967 borders
Israel will not be recognized as a Jewish State

Abu Rudeineh said Abbas will present these positions to US Secretary of State John Kerry when the two meet again on Thursday, after spending more than two hours discussing Israeli-Palestinian peace the day before.

A US official had earlier told the press that Abbas and Kerry "had an in-depth discussion about the core issues (Wednesday) and agreed that it would be beneficial to continue that discussion today," said the senior US official, who spoke on condition of anonymity, adding that the two would meet in the afternoon.

Israeli-Palestinian peace talks resumed on July 29 after a nearly three-year break. At the time, Kerry said: "Our objective will be to achieve a final status agreement over the course of the next nine months."

As that deadline has approached, US officials appear to have scaled back their ambitions, saying they are trying to forge a "framework for negotiations" as a first step though they still hope to hammer out a full agreement by April 29.

Such a framework could sketch the outlines of an accord to resolve the more than six-decade-old dispute, whose main issues include borders, security, the fate of Palestinian refugees and the status of Jerusalem.

Elior Levy contributed to this report.