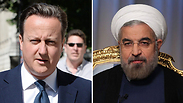 British Prime Minister David Cameron and Iranian President Hassan Rouhani.
Photo: EPA, AP
TEHRAN - Iran and Britain officially resumed diplomatic relations on Thursday, severed by London after students stormed its Tehran embassy in 2011, a senior Iranian official said.

"From today relations between Iran and Britain are resumed at the non-resident charges d'affaires level," Deputy Foreign Minister Majid Takht-Ravanchi told ISNA, adding that the countries' flags were raised atop their embassies in Tehran and London.

The British Foreign Office confirmed the news.

Related stories:

Britain had ordered the closure of Iran's embassy in London after shuttering its own in Tehran when hundreds of Islamist students stormed the compound in November 2011.

The students – protesting against Western sanctions over Tehran's disputed nuclear program – ransacked the building as well as the ambassador's residence in north Tehran.

Since then, the Swedish embassy in Tehran has represented Britain's interests there, while the Omani embassy in London has done the same for Iran.

"By ending the job of countries' interest sections, the charges d'affaires are now responsible for the bilateral relations," said Takht-Ravanchi.

In November, the two countries had already named non-resident charges d'affaires, and Britain's new envoy, Ajay Sharma, visited Iran in December.

There has been a thaw in ties between the Islamic republic and the international community since the June election of President Hassan Rouhani, a reputed moderate who has reached out to the West and steered his country into a landmark nuclear deal with major powers.