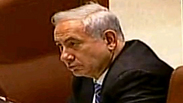 Prime Minister Benjamin Netanyahu.
Photo: Knesset Channel
Right wing MKs from the Lobby for Greater Israel warned Prime Minister Benjamin Netanyahu Thursday that any construction freeze in West Bank settlements will be considered as a "deal breaker."

Army Radio reported Wednesday that after US Secretary of State John Kerry presents his framework for the continuation of peace talks with the Palestinians, Washington intends to ask Jerusalem to halt construction in isolated settlements.

"In recent days we have heard reports of a demand from Israel to agree to a construction freeze in Judea and Samaria. We object to any kind of halt (in construction), including construction freeze 'outside the major blocs,' and will consider any such Israeli commitment to be a deal breaker," a letter the lobby sent the prime minister said.

Related stories:

The letter is signed by lobby chairs MKs Yariv Levine and Orit Struck (Bayit Yehudi) and 19 other MKs from the Likud, Yisrael Beitenu and Bayit Yehudi.
'No more free gifts'
"Construction freezes have failed in the past. There are no more free gifts," Likud MK Miri Regev said. "Both Netanyahu and the international community need to understand that pressuring Israel will not lead to more concessions."

"The State of Israel has a right to defend itself. Peace can be exchanged for peace, not for lands or construction freezes," Regev added.

"I hope that, just as the prime minister did not cave to pressures from the Palestinians and the international community, and did not agree to halt life in Judea and Samaria and Jerusalem, he continues doing so," said Deputy Foreign Minister Ze'ev Elkin.

"There's a united and strong force behind Netanyahu to safeguard the land of Israel and strengthen the settlements. Any American pressure to threaten the settlement will be answered with complete objection from the national camp," Levine said. "It is our right and historic duty to settle and build in all parts of the land of Israel and we will stand determinedly on this right."

"You don't freeze a people that returned to its country and is building its home there," MK Motti Yogev (Bayit Yehudi) said.

"Between the Mediterranean Sea and the Jordan Rive there will only be one Jewish and democratic state - the State of Israel," Yogev added. "The two-state solution is not practicable and is dangerous to the continued existence of the State of Israel."

"Our fast response proves that we did indeed build a politic iron wall against harming the land of Israel and the settlements," Struck said.

On Friday, right-wing ministers and MKs were scheduled to take part in a rally in the Jordan Valley that calls to leave the area in Israel sovereignty. Interior Minister Gideon Sa'ar and Coalition Chairman Levine were expected to attend.

A similar rally took place last week in Ma'aleh Adumim, in which right-wing coalition ministers and MKs were joined by thousands of people to urge the government not to cave into international pressures to make concessions on land.