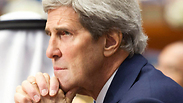 US Secretary of State John Kerry
Photo: Reuters
US Secretary of State John Kerry said Thursday that he is "not in the business of making bad deals," and stressed that he remains "committed" and "determined" to reaching a peace accord between Israelis and Palestinians.
"I have no argument with anyone in Israel who says that no deal is better than a bad deal. I say that myself," he said in an interview with Channel 2's investigative program Uvda. "I'm not in the business of trying to put together a bad deal. I am working with both sides on security arrangements."
"You cannot turn to the people of Israel with the prospect that what you are offering will turn the West Bank into Gaza. Israel's security is iron clad," he added.
Related stories:
Throughout the interview, Kerry repeatedly insisted that he is not distracted by the naysayers and has not given up hope that a deal is attainable.
"That's not the way I operate. I'm an optimist and I am a believer in possibilities," he said. "People who know me know that when I sink my teeth into something, if I get the bit between my teeth, I try to get it done," he said.
He also noted that he isn't naive, and seeks to reach a realistic agreement.
"My job is to help create a situation where the realities of the agreement are such that it is not such a leap of faith. I want this to be a leap of reason, of choice and of rationality based on a very understandable and tangible agreement about security," Kerry noted.
On the opposition to the talks coming from right-wing coalition members, Kerry said that while there will always be those who support a Greater Israel, 70 percent of Israelis support the two-state solution.
Kerry also responded to claims that previous failed attempts – like the 2005 disengagement from Gaza – serve as proof that withdrawal from land is not the answer.
"I would say very respectfully to people… in the current government who were opposed to (the Gaza disengagement) who argued that if you just pull back it wouldn't change the dynamic, because they didn't do what we are doing today and that is to put the end game on the table," he said.
While he is the only one allowed to publicly discuss the negotiations, Kerry repeatedly refused to go into the talks details.
When pressed about the viability of an agreement in regards to settlers, he asserted that "I don't know that the settler will have to leave his home. That's for the parties to decide."
Security and prosperity
Kerry has visited the region more than a dozen times since the most recent round of talks were launched in July. With an April target date for an agreement approaching, Kerry has said he will soon return with bridging proposals for a framework deal. Recently, both sides appear to have hardened their positions while questioning the effectiveness of Kerry's efforts.
He has come under fire from West Bank settlers who fear he is pushing Israel to make dangerous territorial concessions. Some Israeli ministers also have criticized what they consider to be his overzealous drive for an accord, despite a Palestinian refusal to recognize Israel as a Jewish state and past terrorist attacks.
During the interview, Kerry repeatedly stressed his position that Israel's security and prosperity would grow if a peace agreement is reached. "I believe Israel will get so much stronger and so much more prosperous, as would the West Bank, there is so much to benefit."
"I have had an Arab foreign minister tell me that if we make peace, Israel would be a powerhouse and would do enormous amounts of business with the Arab word," he added.
At the beginning of the interview, journalist Ilana Dayan opened by asking Kerry about his spat with Defense Minister Moshe Ya'alon, who called his efforts "messianic" and "obsessive," claiming Kerry's security arraignments "were worth the paper they were written on."
The secretary of state dismissed Ya'alon's claims, saying that he is not obsessive, but rather committed.
"I don't want to get into food fights … there is a bigger picture and concept called peace…I've learned to be called everything in the book, but I am able to stay focused."
From Vietnam to Israel
Uvda's profile focused on Kerry's personal life as well as his political activities, reviewing his years fighting in the Vietnam War and also Kerry's recently discovered Jewish roots. During the interview, Kerry was asked whether he had ever spoken with Israelis about his experience in Vietnam vis-a-vis Israel's security concerns.

"The people of Israel know war. It would be almost insulting for me to assert my experience when Israel has experienced wars and siege," he said, adding "I would not venture there except to say that my experience … helps me peruse diplomacy instead of war. (Vietnam) was defining for me, but not imprisoning… I am informed by it. I don't see everything through that prism."

The secretary of state also described his experiences visiting bomb shelters in Sderot and Kiryat Shmona, and even recalled being in Tel Aviv when a bomb went off on the last day of the 2012 Operation Pillar of Defense.
End goals
After numerous visits to the region and lengthy conversations with both Prime Minister Benjamin Netanyahu and Palestinian Authority President Mahmoud Abbas, Kerry has developed a close relationship of respect with both leaders.
Kerry and Netanyahu reportedly spend hours on the phone, yelling at one another and then quickly making up. Some believe, Dayan said, that Kerry is Netanyahu's last friend in Washington.
"I spend a lot of time talking to Netanyahu and Abbas. I feel I understand (Netanyahu) who has chosen great courage and leadership in putting this to the test," he said. "He has enormous complications to face … and he repeatedly tells me he has to guarantee security and that means a lot of things have to happen."
The US diplomat noted that American General John Allen and over 60 military experts were looking into how Israel can have its desired level of security following an accord with the Palestinians.
When asked to describe each leader's end goals, Kerry said Netanyahu would only be content with an agreement that answers all the security challenges, secures the nation state of Israel as the home of the Jewish people, and properly resolves the refugees question.
Regarding Abbas and what he can be proud of at the final analysis, Kerry said the PA president "was willing to do what was necessary to return to talks. Given the right set offers on the table… I think he can come to an agreement… are we there yet? No. But it needs to be developed going forward."
Associated Press contributed to this report.