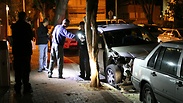 Petah Tikva, Thursday night
Photo: Ido Erez
Petah Tikva's Shas chairman and Acting Mayor Uriel Boso was astonished to find that his car, which was parked next to his home, was vandalized and set on fire late Thursday night.

There were no injuries reported in the event. Preliminary police investigation revealed that an explosive device was placed near the vehicle. Suspects have yet to be arrested.

Several hours after the explosion, Boso told Ynet: "I don't know if they tried to really harm me or just my car in order to frighten, but I trust the police will get their hands on those responsible for the act and I rely on the law enforcement agencies. However, as a citizen of the city, I am worried about the intolerable easiness in which such events take place. We cannot have democracy harmed."

Boso is part of a very well-known family within the Shas movement and serves also as the chairman to the local council for planning and building. His brother, Yehuda Avidan, is closely linked to the movement's leadership and served in many roles on its behalf and is considered one of its most eloquent spokesmen.

In October of last year, the State Attorney decided to shelve an investigation against Boso, who was suspected of promoting a construction project for a bribe.

Tzvika, a resident of the Petah Tikva street in which the car explosion occurred, said: "It was a huge explosion that rocked the entire building. We immediately understood that Petah Tikva has become a city in which these occurrences are turning quite frequent. We went downstairs and realized the car belongs to the acting mayor. Thank goodness it ended well."

Just earlier this month, two men were killed in a car explosion in Petah Tikva, not far from a kindergarten and a school. Police then speculated that the event was a "work accident," and the two were on their way to plant a car bomb in an assassination target's vehicle.

Following recent events in Petah Tikva, the city's parents' council said they were very worried about "the deterioration in the personal security in the city due to the multiple cases of severe crimes, which only miraculously have yet to harm children."

Raanan Ben-Zur and Shachar Chai contributed to this report.