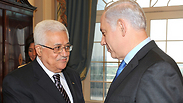 PA President Mahmoud Abbas and Prime Minister Benjamin Netanyahu
Photo: Moshe Milner, GPO
The Palestinian leadership could recognize Israel as a Jewish state if it is done in a way that doesn't embarrass PA President Mahmoud Abbas or weakens any possible peace accord between Israel and the Palestinians, a PLO official told Ma'an on Friday.

PLO Central Committee member Nabil Amro said a recognition in some form is possible, but would need to be approved by a referendum.

While claiming that Israel's current demand for the Palestinians to recognize it as a Jewish state is "unacceptable," Amro failed to specify what would be an acceptable form.

Related stories:

"If that was one of the main obstacles in US Secretary of State John Kerry's efforts, then the active and determined Kerry has to overcome it without embarrassing Abbas or weakening any possible agreement between Palestinians and Israelis," Amro told Palestinian news agency Ma'an.

On Friday morning, American Ambassador to Israel Dan Shapiro told Israel Radio that the framework agreement is likely to include a recognition of Israel as a Jewish state.

Shapiro asserted the recognition of Israel as a Jewish state is one of the ways to mark the end of the conflict, adding that the United States has always viewed Israel as a Jewish state.

PA President Abbas and US Secretary of State Kerry met this week in Paris for two lengthy meetings to discuss Kerry's proposed framework to continue the Israeli-Palestinian peace talks beyond their upcoming April 29 deadline.

The US State Department described the Paris meetings on Wednesday and Thursday as "constructive," and said Kerry and Abbas had agreed to stay in touch in the coming weeks.

But another Palestinian official, speaking anonymously to AFP, said Kerry's ideas cannot "serve as the basis for a framework accord."

"The ideas proposed cannot be accepted by the Palestinian side as the basis for a framework accord between the Palestinians and Israel as they do not take into account the legitimate rights of the Palestinian people," he told AFP.

"The Palestinian position explained to Mr Kerry is that the proposed ideas, particularly the insistences on recognition of the state of Israel as the Jewish nation-state, are unacceptable," the official said.

Proposals for the future of East Jerusalem, which the Palestinians want as the capital of their future state, are "vague," the official added.

Abbas, the official said, "restated the Palestinian position and his vision of a solution based on United Nations resolutions and the positions of the Palestinian leadership and the Arab League."

Kerry, who pushed the Israelis and Palestinians back to the negotiating table after a three-year gap, has no immediate plans to travel back to Israel or the West Bank after making 11 trips during his first year in office.

But he is likely to meet early next month in Washington with Prime Minister Benjamin Netanyahu on the sidelines of an annual conference organized by a powerful American-Israeli lobbying group.