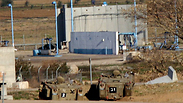 IDF forces near the Gaza border fence (Archive)
Photo: Roi Idan
Sixteen Palestinians were injured Friday in two separate clashes with the IDF near the border fence in the Gaza Strip, a Palestinian medical official said.

Ashraf al-Qudra, a spokesman for the Hamas-run health ministry, said a 12-year-old boy was in serious condition after being shot in the head.

Qudra said the shooting, not far from Jabaliya northeast of Gaza City, came after the Palestinians threw stones at Israeli soldiers, Some 13 others were hurt.

Related stories:

The soldiers opened live fire at "the lower extremities of the main instigators" after attempts to disperse them with riot dispersal means failed, she said.

In the other incident a Palestinian boy, also aged 12, was seriously wounded by IDF gunfire near the Sufa crossing east of Rafah in southern Gaza, Qudra told AFP.

A Hamas security officer was moderately wounded when he was shot in the leg, he added.

Hamas security sources told AFP several children, residents of the area, were playing near the border when they were shot at by Israeli soldiers.

An IDF spokeswoman said soldiers had identified an armed suspect approaching the security fence and fired warning shots before using live ammunition.

Israeli security sources told AFP the armed suspect was most likely the Hamas officer but they were not aware of a child being hit by Israeli bullets there.

Clashes are common on Fridays, with regular protests near the border in support of Gaza farmers who say troops uprooted their trees to create a buffer zone.

Tensions have risen in and around Hamas-ruled Gaza after a year of relative calm, with Palestinian militants firing projectiles at Israel and the Jewish state targeting Hamas facilities and militants.

According to army figures, Palestinians have shot 37 projectiles that hit southern Israel since the beginning of 2014, most recently on February 14.