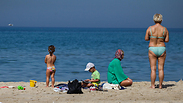 Dado beach in Haifa
Photo: Avishag Shear-Yeshuv
The sunny warm weather that has engulfed Israel in recent days brought hundreds of Israelis to the beach on Friday. Since the water is still cold, beachgoers focused mainly on ball games and sunbathing.

Lenny and Shiran arrived at the Tel Aviv beach to break their daily routine. "The weather is amazing, people around here are happy, we brought matkot (paddle ball paddle) with us and we intend to make full use of this amazing sun. I wish the weather is always like this," Shiran said.

"When I saw the surfers this morning I was instantly excited, I think we'll take (surfing) courses as soon as next week," her friend Lenny added.

We found Yael and Dana at the volleyball court on Gordon beach. "We can finally play without being cold," they said. "All of the courts have been used all day, it's a great day - everyone should come."




Roey and Idan from Ramat Gan came equipped with a sheshbesh (backgammon) board. "The great sun came right after exams ended," the two said. "It's best to get a tan now so we can be ready for the summer season. There's a great vibe here, beer and beautiful girls."



Sapir from Tel Aviv celebrated her friend Ronnie's birthday at the beach. "I love the summer and there are a lot of hot guys here. When the sun comes out, we're at the beach. I even skip work and today we are here to celebrate a birthday. We brought sheshbesh, strawberries, wine and snacks."



Malka from Rishon Lezion arrived at the Tel Aviv beach with her two grandsons Omer and Ido. "It was very hot this morning so we made a spontaneous decision to go to the beach," Malka said. "At the beach, you can cool off in the water, and we will eat ice cream soon as well. Now that there's a summer in the middle of winter, it's a great opportunity to spend time with the grandchildren."