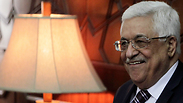 Mahmoud Abbas
Photo: Reuters
Palestinian President Mahmud Abbas said Friday that US attempts to forge an agreement on a framework for peace talks with Israel had so far failed but that the efforts are "extremely serious."

Speaking in Paris after talks this week with US Secretary of State John Kerry, Abbas told journalists: "So far the Americans have not been able to put these ideas into a framework, even if the efforts are extremely serious."

After meeting with Abbas, French President Francois Hollande said he had underlined the need "to reach an agreed framework for negotiations in a timely manner."

Abbas met with Kerry twice in Paris this week in what a US official described as "constructive" talks.

The top US diplomat has spent months trying to get the Israelis and the Palestinians to agree on a framework to guide talks towards a full peace treaty, but the negotiations have shown little sign of progress.

A Palestinian official, speaking on condition of anonymity, said Friday that ideas proposed by Kerry in Paris could not be accepted "as the basis for a framework accord... as they do not take into account the legitimate rights of the Palestinian people."

He emphasized that "the Palestinian position explained to Mr. Kerry is that the proposed ideas, particularly the insistences on recognition of the state of Israel as the Jewish nation-state, are unacceptable," the official said.