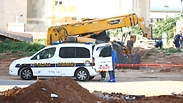 Scene of the crime
Photo: Motti Kimchi
A 34-year-old man was shot early Saturday morning at a construction site in the central city of Rehovot, where he worked as a guard. A Magen David Adom ambulance crew arrived on the scene, but the man had already succumbed to his wounds.

Police had arrived to the location. It appears the man was shot several times in his stomach, from close range.

Israel Police Chief Yohanan Danino said on Friday that "Israelis need to support the police particularly at this junction." Addressing the recent crime wave, he said: "We need to put these events into proportion."

The police's initial investigation raised the possibility that the overnight murder was the result of an ownership dispute about the construction site. The deceased guard was found by a patrol officer that was passing the location when he noticed a body on the ground.

Initial estimates place the time of death several hours prior to the patrol officer's discovery.

The Magen David Adom paramedic that was called to the scene said: "We were called to the scene because of a report about an unconscious man. When we arrived we noticed a man in the prone position, who had been shot in his stomach. There was nothing we could do other than call the time of death."

The Central District police commander arrived at the scene to assess the situation. The construction site is considered a crime target, and police had sent detective crews – before the murder – to visit and conduct patrols.

The murdered man's body was discovered by one of the detective crews which were sweeping the site when they discovered the prone body. Police officers estimate that the murder was committed as part of a dispute between rival crime gangs in the area, who are offering their respective 'security' services.